Sir John Hall invited to revitalise Ashington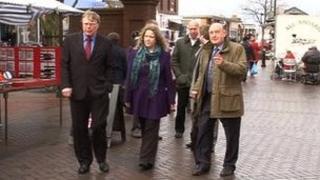 Sir John Hall, the man behind one of the largest indoor shopping centres in Europe, has been invited to help revitalise his hometown.
Sir John, who was born and brought up in Ashington, Northumberland, is the property developer who masterminded the MetroCentre in Gateshead.
He has become chair of a local team set up in the wake of the Mary Portas review into the future of high streets.
The group aims to "increase spending and create a renewed sense of pride".
The former owner of Newcastle United said: "My early vision of the MetroCentre was based on my knowledge, liking and experience of the range of available retail shopping on Station Road, Ashington.
'Very best shot'
"Like many other high streets, retail in Ashington has suffered over recent years, and there are concerns that the current economic climate and closure of the nearby Rio Tinto Alcan plant will further add to the challenges faced.
"To be given an opportunity to return to my hometown and be directly involved in working with others to effect real, positive change and improvement in Ashington was too good a chance to miss, and I intend to give it my very best shot."
Councillor John McCormack, chairman of Ashington Town Council and a member of the Town Team said: "As part of the bid for Portas Pilot status, the town council and others worked hard to help establish a representative team that would bring together key landlords, large and small shopkeepers, other local businesses, service providers and residents.
"There is a real drive and enthusiasm to continue the work to build a recognised, strong town team for Ashington and to put the case for a much needed regeneration focus."