Public meeting over Newcastle library closure plans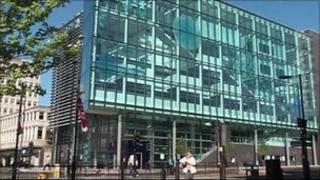 Children's authors David Almond and Alan Gibbons are due to speak at a public meeting against Newcastle library cuts.
The city council wants to get rid of 10 of its 18 branches as part of plan to save £7m.
The Labour leader of the council, Nick Forbes, admitted it was considering "horrendous" budget proposals.
Mr Gibbons co-signed an open letter to the council asking it to "reconsider this wrong and immoral course".
The letter, from nearly 40 authors, said they were "appalled to hear that council leaders are planning draconian cuts to the city's libraries" and said it is the "young and the elderly who disproportionately depend on branch libraries".
'Horrendous proposals'
Mr Forbes said the council would lose a third of its budget over the next three years.
He said: "What we've had to do is look radically at everything that the council does. There are some pretty horrendous proposals here.
"They are not proposals that I would ever want to do but the fact is the money that we are getting from the government, which is a huge proportion of the council's income, is being cut."
The city council plans to retain a "core network" of eight facilities, including the city centre "super library".
Mr Forbes added that community or voluntary groups could run smaller libraries.
The meeting is due to take place at St John's Church Hall, Grainger Street at 19:00 GMT.
Mr Almond has twice won the Whitbread Children's Book award and has written novels such as Skellig and My Dad's A Birdman.
Mr Gibbons wrote the best-selling book Shadow of the Minotaur.
The meeting will also hear from Paul Gilroy, branch secretary for the library workers' union Unison.