Atlas worth £2k donated to Newcastle Oxfam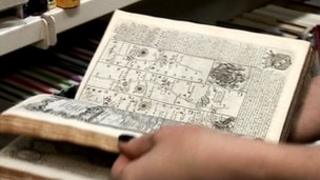 A 300-year-old road atlas thought to be worth more than £2,000 has been donated to a charity shop in Newcastle.
A first edition of Britannia Depicta, which contains antique road maps, was donated by a friend of a volunteer at Oxfam on Hood Street.
Rachel Pollock, who works at the shop, explained: "They knew the book was worth a lot and wanted to donate it to Oxfam."
The hardback book was published about 1720 and will go on sale for £2,000.
Ms Pollock added: "We spoke to book dealers in the North East and came to the conclusion it was worth over £2,000.
"We do get some exciting books coming into the shop regularly, but we've never had anything this old or worth as much money.
"It looks quite plain from the outside but when you open it up, you know it's something special."
If the book does not sell in the shop it will be put up for auction in London.