Rope making factory opens on Tyneside creating 50 jobs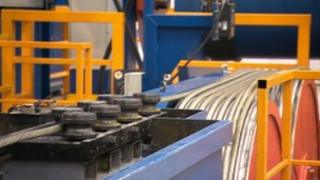 Fifty jobs have been created on Tyneside with the opening of a new factory that houses the world's largest rope making machine.
The Bridon Group factory was officially opened by the UK Minister for Business and Enterprise Michael Fallon MP.
The government's Regional Growth Fund helped with the £30m project by giving it a £2.2m grant.
Bridon had told the government that if no cash was available, the factory would not be built and the company also indicated that an existing factory on Tyneside would move to Germany and 150 jobs would be lost.
But the company's CEO, Jon Templeman, said: "Thanks in part to the expert work of local suppliers and the support of Newcastle City Council, ropes constructed at Bridon Neptune Quay will be the most advanced in the world."
They also said that the state-of-the-art factory would produce the largest and most complex offshore ropes in the world, which, when packed for delivery, would weigh up to 650 tonnes.
Business minister Mr Fallon said: "It's common sense to make sure that companies that want to expand were encouraged to expand here rather than move away."
Mr Fallon had opened the Tharsus plant at Blyth in Northumberland earlier in the day.