Newcastle City Pool could close by 2016, says council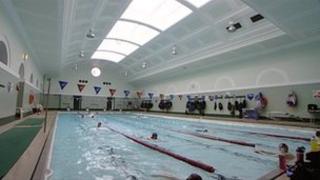 Newcastle's City Pool could close by 2016, the council has said.
The council said the combination of the investment needed plus a nearby alternative pool lead them to propose the closure.
Newcastle Amateur Swimming Club, which has 200 members, said closure would leave them homeless.
The proposal to close the pool in Newcastle city centre is part of a bid to save £45m from the council's budget for 2013 to 2016.
Tony McKenna, head of leisure services at the council, said: "There is such a high investment needed for the building.
"We also know there is a pool that the University of Northumbria have at their sports central complex which is on the same road and that has a community use agreement associated with it.
"The combination of the capital investment that is needed, and there is a viable option so close to the City Pool, lead us to propose the closure of the pool."
'Massive shock'
Gordon Reay, from Newcastle Amateur Swimming Club, said: "We run two pools four to five hours every evening and it's finding the hours and the pool space in other pools around the city which is going to prove the greatest difficulty."
Louise Graham, from the club, said: "The news of the threatened closure has come as a massive shock to the club and our swimmers."
The club, created in 1977, has started a social media campaign, Save Newcastle City Swimming Pool.
The council said it had to make savings of £7m from its library, leisure, culture and customer service area.
The public consultation on the proposals will end in March 2013.