Sinclair Meadows: The street that removes its own carbon footprint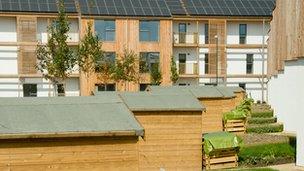 There is a ban on cars, cats and dogs and the view from your window is a pile of rotting wood.
Welcome to Sinclair Meadows, South Shields, one of the UK's first carbon negative streets.
The complex only opened six weeks ago, yet every home - complete with shed, compost heap and allotment - has tenants.
In fact, Four Housing Group, which rents them out, had no trouble filling them - it had more than 500 applicants vying to live in its 21 rented, three-bedroom houses and apartments.
In the end staff had to interview applicants to check their green credentials, commitment to recycling and dedication to low energy consumption.
Youth worker Dot Wilson, 54, and her husband Brian, 64, pay £103 a week for their two-bedroom apartment, and they absolutely love it.
The pile of wood on view from their window is in fact a "bug hotel" complete with cardboard and other biodegradable matter.
Mrs Wilson said: "I knew what it was when we moved in - once the wood rots, environmentally-friendly creepy crawlies will move it.
"But my husband didn't realise and rang up to ask if the big pile of rubbish outside the house could be taken away. Not a great start to our tenancy."
Mrs Wilson, who uses a motorised scooter and sticks because of severe asthma and arthritis, had always wanted to live a greener life but found it an expensive commitment.
"Things like solar panels are just so expensive. But here it is all made easy for us," she said.
The toilets are flushed with rainwater, collected in tanks from rooftops and hot water and electricity are generated on site by a big biomass burner which runs on wood pellets.
There are a few drawbacks though. No cars are allowed on site to keep down the carbon footprint, but some drivers have been ignoring the rule.
Also outdoor cats and dogs are banned because the street's many bat and bird boxes contain too many edible temptations.
Mrs Wilson said: "A few drivers have flouted the rule and parked on the street which is a bit annoying.
"Also I had to rehome my pet cat Scratch because he was an outdoor cat - he is with my son, but I still miss him.
"But on the whole it makes it more safe for children - my two-year-old granddaughter Amelie comes to stay with us and I can let her out to play."
So ultra environmentally-friendly are the homes that they are called carbon negative, because they generate more energy than they need, and are actually classed as removing carbon from the atmosphere - surplus energy is "fed" into the national grid.
They are also all fitted with photovoltaic panels - solar panels to convert sunlight into electricity.
All the gardens are also south-facing to trap as much heat as possible to reduce heating bills.
And to make sure residents are constantly energy-conscious, all homes are fitted with monitors - a constant reminder to keep consumption down.
Building green homes is expensive and Four Housing Group received £1.7m in funding from the Homes and Communities Agency (HCA).
Dawn Keightley, director of operations for the housing group, said: "The project is unique because it is designed to be carbon negative housing, so within three years of being built, it will actually remove its own carbon footprint created during construction.
"Once the development has reached the end of its useful life, the majority of the materials will be reusable, recyclable and biodegradable.
"The homes have been built with natural materials wherever possible, such as timber frames, hemp insulation and lime render."
Residents will also be taking part in a two-year study conducted by Northumbria University to assess which aspects of the development provide the biggest energy savings.
Mr Wilson said: "Since we moved in we have only had the heating on twice for 10 minutes.
"Any electricity used during the day is free - we can be green without paying lots of money."
Related Internet Links
The BBC is not responsible for the content of external sites.