David Scott Cowper on dodging icebergs in the Northwest Passage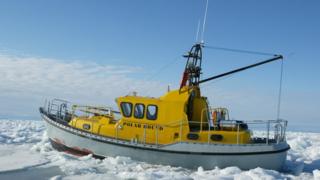 At the age of 70 David Scott Cowper is no stranger to danger.
At the beginning of November, Mr Scott Cowper, from Newcastle, returned from a successful attempt to navigate the Northwest Passage through the McClure Strait, connecting the Pacific and Atlantic Oceans.
As well as rough seas and unpredictable weather patterns, the adventurer, who has made numerous trips to explore the Arctic, also had to contend with obstacles hampering his course.
"Icebergs just loom straight out of the mist and they present an immediate need for evasive action - I've crashed into one before, and it's no fun," he said.
"They at least show up on the radar, but there are growlers which are broken shards of icebergs that simply don't show up.
"They can be about the size of an armchair at water level, and can look as benign as a wave top.
"Although my vessel Polar Bound can take around 60 tons of ice pressure on her hull, below, the growler can be around 100 tons of ice," he continued.
"And when you have one of those coming on a running sea, your navigational skills are really tested."
Mr Scott Cowper departed from Whitehaven in July and sailed north toward Greenland after stopping at Port Rush to fill Polar Bound with fuel.
"Much of my trip this time was in thick fog and when I was skirting the south-west coast of Greenland, the fog detracted from part of the joy of the journey as I was navigating largely on my instruments - unable to see the majestic Greenland scenery," he said.
However, he always enjoys visiting the local communities along his route.
"I always love berthing at Alaska's Dutch Harbour - I have a few fishermen friends there and I rather look forward to seeing them for a short while," he said.
"It's not like meeting people at a cocktail party - these are real friends and you may not have seen them for three or four years - but you just pick up that conversation from where and when you left off."
Mr Scott Cowper has always been his own financial backer.
"I've always cut my cloth according to my means," he said.
"There's been no fancy boats or fancy this and that you associate with heavily sponsored trips."
Provisions are simple, with a large amount of tinned food. He has a small deep-freeze in which he stores fish, chicken and duck and takes enough supplies for up to three years.
"Breakfast is porridge with maple syrup and I make my own bread and soup from chicken carcasses with fresh vegetables," he said.
Technology has significantly changed since Mr Scott Cowper's early sailing days in the 1970s.
"Then it was celestial navigation with a sextant and I would take a sighting 9am, noon and 4pm and I'd be accurate within a nautical mile," he recalled.
"Today, auto-entering into the computer log can make you complacent, and if there is one place that you can't afford to be complacent it's the Arctic waters."
"Before long, the Arctic will be ice-free in the summer and just freeze up in winter - but these days, with severe storms and high winds, it can bring huge seas very quickly and you just have to concentrate," he added.
The Polar Bound is now safely moored in Petersburg, Alaska, and despite only recently arriving home Mr Scott Cowper is already planning his next adventure.
"I'm going to try another route before too long, but I'm not going to divulge what it is at the moment," he said.
"They take a considerable time and a great deal of research and expense to carry them out."