Grave fears after Northumberland cemetery mix-up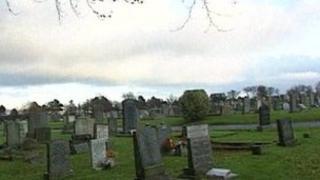 There are fears people could be buried in the wrong plots after errors were uncovered in records for two cemeteries in Northumberland.
The county council said the inaccuracies, affecting Berwick North Road and Tweedmouth cemeteries, were causing it "considerable concern".
They relate to dates before 2009, when it took over management from Berwick Borough Council.
Steps are being taken to contact any families who may be affected.
The inaccuracies came to light following an independent investigation commissioned by the council, which took over responsibility for the cemeteries after it became a unitary authority.
Two members of staff were suspended and later dismissed for gross misconduct.
The errors include burial in the wrong plot, a memorial on the wrong grave, deeds issued incorrectly, or an unregistered burial.
'Extremely upsetting'
It is thought they only relate to a small number of plots and in most cases could be rectified by clarifying details for the burial records.
However, the council said in a very small number of cases a more detailed investigation might be necessary.
In these cases, it said it would work closely with families and take any action only with their approval and express permission.
Roger Styring, deputy leader of Northumberland County Council, said: "We understand that this could be extremely upsetting for people affected by this and we're sorry for the distress caused.
"We are making a commitment to all of the families involved that we will deal with these issues in an extremely sensitive manner.
"We are putting support in place to ensure that anyone affected has full knowledge and any support and guidance that they need during the work."
The council and the British Red Cross are setting up a telephone support line for families.
Judi Evans, from the British Red Cross, said: "All calls will be dealt with by staff and volunteers from the local area, and will be handled with the utmost care and sensitivity."