South Shields Community School teachers go on strike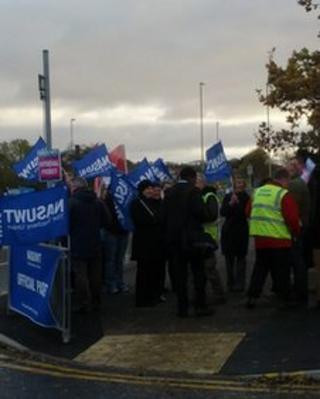 Teachers at a South Tyneside school are striking over what they call the "unreasonable actions" of management and the local education authority.
NASUWT and NUT members and management at South Shields Community School have failed to agree over local "issues" arising from national non-strike action against changes to pay and conditions.
They say the frequency of teacher observations in class is a problem.
The school says these are "valuable" and should not be restricted.
NASUWT General Secretary Chris Keates said the school had left the unions no alternative but to escalate the action to a full strike.
"The teachers have tried hard to focus on action which enables them to defend their pay and conditions of service but does not disrupt the education of pupils at the school," he said.
"They deeply regret that they have been forced by the unreasonable actions of the employer to take strike action."
'Sticking point'
A joint statement from the school and South Tyneside Council said "a number of issues" had arisen over union instructions to members across the country "as to what they should and should not do".
It said that, although "good progress" had been made in talks between the school and unions, "one of the sticking points has been the unions' insistence that classroom observation of teachers by school management is restricted to three times a year".
Chair of governors Malcolm Branch said: "It is a matter of real regret that unions have felt it necessary to take this action.
"I fully support the school's leadership in fulfilling its duty to monitor the work of staff so we can keep improving and in doing so, help our pupils be the best that they can be."
The school and both unions have independently said they are ready to resume talks.
Further strikes at South Shields Community School are planned for Thursday and 13, 14, 15 November.