Lord Mayor's 214-year-old coach for sale in Newcastle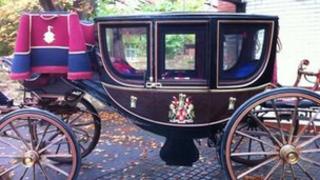 The Lord Mayor of Newcastle's official coach, which is more than 200 years old, is being put up for sale.
The city council said it had taken the decision "reluctantly" to help cover a £90m "funding gap".
The coach, made in 1798, is now rarely used and is currently in storage.
Leader of Newcastle City Council Nick Forbes said: "As a council we have a duty to help families who are suffering. In order to do that, we now have to sell off the family silver."
Any money raised will be used for new capital investment in areas such as highways and schools.
The council said this could ease the pressure on the authority's revenue budget which is used for frontline services for children and elderly and vulnerable people.
'No apologies'
Mr Forbes, said: "It gives me no pleasure whatsoever to sell off the Lord Mayor's coach to the highest bidder - but our financial situation leaves us with no room for sentimentality.
"As leader of this council I will always put people before objects. If the coach raises money that will help us to avoid cuts to services that people need then I make no apologies for that."
The coach is black with gold and red decoration and the city's coat of arms on the door.
The council said it is in "perfect" condition and is currently valued at £80,000 for insurance purposes.
It was originally pulled by dray horses and escorted by draymen from the former Scottish and Newcastle brewery wearing bowler hats.
Once regularly used for important occasions the coach is currently only brought out of storage once a year for the Lord Mayor's Garden Party.