HMP Northumberland has work to do, inspectors find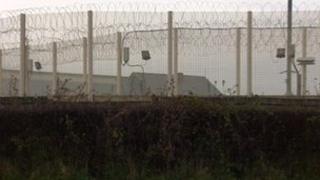 A third of prisoners at a North East jail spend days in their cells "doing nothing", inspectors have found.
HMP Northumberland, formed after the merger of Castington and Acklington jails, was criticised for the way its training programmes are managed.
Nick Hardwick, the chief inspector of prisons, said it was "inexcusable" so many prisoners were unoccupied during the working day.
But the prison could "take credit" for its progress, his report found.
'Felt safe'
June's inspection was the first at the Northumberland jail since the merger of Castington, a former young offenders institution, and Acklington, an adult training prison.
The 1,300-capacity prison houses a significant number of "vulnerable" sex offenders.
Inspectors found satisfactory measures to deal with violence and self-harm and said many prisoners felt safe.
Their report said the prison's training regime had potential but had "insufficient places".
Too many of the prisoners employed at the prison were working as wing cleaners, it added.
Mr Hardwick said: "This inspection took place at a time of significant change and uncertainty for HMP Northumberland.
"Castington and Acklington had integrated well and felt like one entity, which was a real achievement."
Michael Spurr, chief executive of the National Offender Management Service (NOMS), said: "I have been very impressed with the hard work and professionalism shown over the past 12 months."