'Smallest baby' waits for heart donor in Newcastle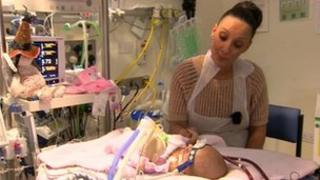 Miley Turbitt is the smallest baby in western Europe waiting for a heart transplant according to her doctors at the Freeman Hospital in Newcastle.
The 12-week-old has been diagnosed with hypertrophic cardiomyopathy, a condition that prevents the heart from pumping blood properly.
Experts at the hospital say she is at the top of the European donor list, but that donor hearts this small very rare.
Her mother, Sharon Eckert said: "The clock is ticking, we can only pray."
Doctors first noticed something was wrong during pregnancy, but when she was born things looked normal and Miley was allowed home.
'Turning grey'
The time away from hospital was brief as Miley stopped feeding and according to her mum stopped gaining weight and "turned a little grey".
Miley's condition means her heart muscles thicken up and prevent blood being pumped around the body.
Mrs Eckert, 38, from South Shields, said: "I contacted the hospital and they took her straight in. She was in two days and they operated to try and remove some of the heart muscle.
"She went into heart failure and has been on this machine ever since while we try to find a heart donor.
"I come in every day, I sit with her, I think it helps to talk to her. Some mornings I come in and she opens her eyes when she hears me.
"I just hope that something comes along. I don't think people are aware that babies need donors too. I hope this raises awareness.
"The clock is ticking, every day that goes by it gets a little bit harder. We just have to pray."
Baby Miley is wired to a machine that does the job of her heart and lungs, and it is the machine that is keeping her alive.
Dr John Smith, paediatric consultant at the Freeman Hospital, said: "It is very rare in babies, we've only seen one similar in this age group in the past 15 years
"If a heart becomes available we will find out about it, but the availability is unpredictable and there are only a certain number of hearts that become available in a year.
"It's just down to luck that someone can be maintained on mechanical assist until one that is suitable for them becomes available."