Rare 1904 Wilson-Pilcher car sold at auction for £203,100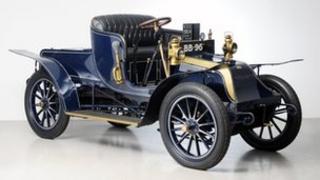 A rare four-seater vintage car has been sold at auction in London for £203,100.
The 1904 Wilson-Pilcher was built in Newcastle by engineer and inventor Walter Wilson.
Initially used as a fire tender, it was renovated in the 1940s and 50s, before being given to Mr Wilson's family who have owned the car ever since.
Other vehicles auctioned at Bonhams included a cream two-seater Vauxhall which sold for £94,460 and an 1895 Buffum Stanhope which fetched £113,500.