Alzheimer's Society volunteer describes life as a carer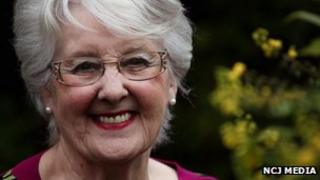 When it comes to understanding the complexities of living with Alzheimer's disease, Barbara Dow can give you chapter and verse.
Her husband of 50 years, Al, was diagnosed with the form of dementia in 2000 and that was when both their lives spun off in a very different direction.
Mr Dow had been and RAF officer, Vulcan pilot and instructor - a job that demanded the highest levels of intelligence and mental agility.
"Being in charge of a multi-million pound aircraft and flight crew meant that he was a respected man and he ensured that there was a respect for all with whom he worked," said Mrs Dow, from Amble in Northumberland
But it was after his diagnosis that they both had to come to terms with a very different Mr Dow.
"After being in such a position of responsibility," she continued, "it was a shock that simple things like not being able to set the controls for the television or video - many of those simple things started to become a trial.
She added: "I came home once and emptied all of the groceries in the kitchen and promptly found I had mislaid my car keys. I later found them in the fridge.
Early diagnosis
"But while I knew the keys shouldn't have been there, Al might have thought the fridge would have been quite normal."
Mrs Dow said it is vital to get an early diagnosis for Alzheimer's disease because medication can slow down the condition's progress.
She said: "We managed to get an early diagnosis and were able to tackle the disease at an early stage."
Soon after the diagnosis, the couple moved to Amble to be closer to their son and at first addressed their new situation by dealing with Alzheimer's lightly.
They carried on with their social life - enjoying ballroom dancing and even holidaying in the RAF's Rothbury House.
But as Mr Dow's general forgetfulness gradually turned into memory loss, they decided to seek further medical help.
After some time in hospital and only five years after being diagnosed, Mr Dow died in November 2005.
After his death Mrs Dow decided to become a champion for others with the disease and began working as a volunteer with the Alzheimer's Society in Morpeth.
Two patients
The group produced a leaflet, This is Me, aimed at providing health professionals with information about the person with Alzheimer's to help them to be seen as an individual.
Because of Mrs Dow's experience she was asked by various health authorities across the north-east of England to talk to medical professionals.
"When I talk to student doctors and nurses these days, I say that there are two patients really, the one diagnosed with the disease and one you need to keep an eye on," she said.
She produced a booklet, 'Al's Story', to take with her when she delivered talks.
Mrs Dow said: "Doctors and nurses alike have all said that they find it most useful to have a carers perspective on the disease.
"I feel most honoured in being asked to talk to them and seeing that my experiences are making a difference for others.
"For me if someone goes away thinking 'I hadn't thought about doing that' or 'I didn't think I could do that in this way', well, that's it - job done."
And in recognition of her work Mrs Dow is to be awarded the Alzheimer's Society's William Brooks Award which recognises exceptional Alzheimer's Society volunteers.
Sir Michael Parkinson, who is himself a supporter of the charity, will present the award at the House of Lords, in London, on 6 November.