Race against the tide to save Bronze Age artefacts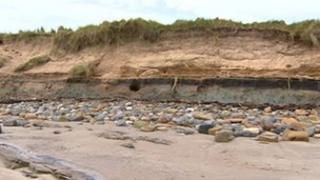 The extensive sand dunes of Druridge Bay on the Northumberland coast are a veritable store of Britain's history, from the Ice Age to today.
But archaeologists say there is a danger of the natural world losing tangible evidence of its heritage.
Burgeoning coastal erosion is both a blessing and a curse - the revealing of significant Bronze Age artefacts from the dunes provides archaeologists with a rich source of history, but they are at risk of being lost to the all-consuming sea if not excavated in a timely manner.
Rescued from the Sea is a Northumberland Wildlife Trust project and, being of significant archaeological importance, it has attracted a Heritage Lottery Fund grant of £285,900.
Important project
Mesolithic remains, an early Bronze Age cemetery and ancient peat beds are just some of the artefacts that have been excavated from cliffs at Low Hauxley, Northumberland.
Steve Scoffin, Northumberland Wildlife Trust's Druridge Bay development manager, said the importance of the Druridge Bay excavation project could not be underestimated.
"It is not just about the archaeology and its context," he said, "but of people being inspired by, and working together to understand, their past and their landscape, and particularly the contribution this can make to the local economy."
The trust has taken on several volunteers and hundreds of schoolchildren to carefully uncover the items hidden within the cliff face.
The volunteers will receive training on the job to accurately preserve each find.
The trust is at pains to ensure that the treasures discovered will be available for as wide an audience as possible.
Interactive classroom sessions will be offered to hundreds of pupils to help them understand the importance of the finds and become inspired by the depth of history on their doorstep.
A series of guided tours and talks is being organised to ensure as many people as possible have the opportunity to see and hear about the work.
Young offenders from HMP Northumberland will also be given the chance to get involved.
"This is a really exciting archaeological site," said Mr Scoffin. "There are so many artefacts regularly coming out of the bank and we need to catalogue them properly for the future."
When the project is complete, the findings will be on public display at the Great North Museum.