Nato warships pay River Tyne visit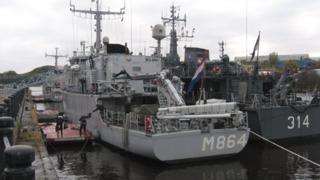 Naval enthusiasts have the opportunity to visit six Nato warships which have docked on the River Tyne.
The vessels - a command ship and five minehunters - are moored at Spillers Wharf in Newcastle, after engaging in training exercises.
On Saturday and Sunday people will be able to visit their upper decks and bridge spaces and view their equipment.
The group's logistics officer said the crews were looking forward to having a few days off from training.
Lt Bart Cordy said: "The waters off the northern England coastline between Tynemouth and Berwick-upon-Tweed are excellent training areas.
"They offer many seabed types, including mud, rock and sand, all of which offer new challenges to improve our minehunting skills.
"It also gives us a chance to visit one of our favourite ports, Newcastle-upon-Tyne."