Newcastle City Centre boost from evening shopping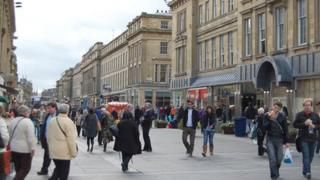 Late night shopping has provided a significant boost to Newcastle City Centre, organisers have said.
Figures released on the second anniversary of the "Alive after Five" initiative show it has brought £157m into the local economy.
Under the scheme, outlets in Eldon Square and some other retailers have been open until 20:00 GMT on weekdays, and 19:00 GMT on Saturdays.
There has also been free parking at council-run car parks after 17:00 GMT.
When it was launched in October 2010, organisers NE1 Ltd described it as the most significant change to retail opening hours since the introduction of Sunday trading.
It now accounts for 16.8% of the day's footfall, with footfall on Northumberland Street up by 5.5% year-on-year, in contrast to the national downturn.
Stephen Patterson, from NE1 Ltd, said: "Alive after Five is about more than extended retail opening hours, it's about transforming the city into a vibrant, European city, and allowing Newcastle to compete on a level playing field with other cities in the battle to attract students, job seekers and major employers."