Holy Island causeway safety signs installed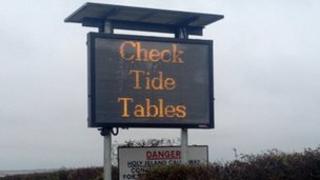 New safety signs have been installed on the Holy Island causeway to prevent vehicles from becoming stranded.
The solar powered signs at either end of the causeway, display a message to check the tide tables, followed by the safe crossing times for that day.
It is hoped the new signs will reduce the "high cost" of emergency service rescues.
Northumberland County Councillor Pat Scott, said she hopes the signs will "make a difference".