Newcastle's new Sikh temple nears completion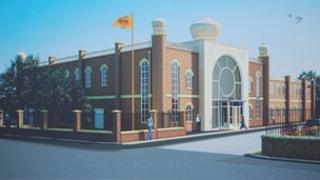 After years of planning and fundraising, a new £2.5m Sikh temple in Newcastle is nearing completion.
The existing temple, or gurdwara, just off Westgate Road near St James' Park football ground, has served the Tyneside Sikh community for more than 35 years.
The new purpose-built temple - wholly funded by the city's Sikh community - is being built on adjacent land.
"Getting this far has been an incredible community effort," said temple committee member Pammi Mattu.
"We started talking about building a new gurdwara 15 years ago and it's taken all that time to get to this point.
"And we've done it all ourselves, no grants or anything like that. Everybody from the community has given as much as they can and it's so exciting to see it come to fruition."
Burial ground
Plans for the new gurdwara were approved in August 2010 by Newcastle City Council's planning committee.
Its car park has been built on the site of an old burial ground for St Paul's Congregational Church.
The church was built in 1841 and demolished in 1967 but the graveyard had not been used for more than 150 years.
Building on disused burial grounds is allowed, subject to strict controls.
Site manager for building contractors Walter Thompson, Ian Walker, said the building would be L-shaped with two prayer halls, classrooms and a Langar, or eating area.
"The entrance is a huge horseshoe shaped screen with glazed glass and above that a golden dome about six metres in diameter which will be a real feature across the centre of Newcastle," he said.
It is hoped the dome will be lifted into place in the next few weeks and that the building will be ready for use in February 2013.
Official opening is planned for April, during the festival of Vaisakhi, one of the most important in the Sikh calendar.
Mr Walker said it had been a privilege to work on the project.
"It's a spectacular building and I've learnt a lot about the Sikh community and met some marvellous people," he said. "We've worked closely together to make sure they get what they want for their community."