Date revealed for demolition of flooded Newburn flats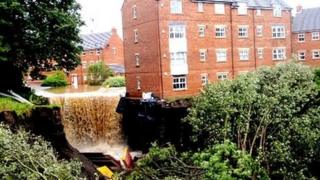 Demolition work at a block of flats on the brink of collapse after flooding on Tyneside is to begin on 23 October, developers have confirmed.
The foundations of Spencer Court, in Newburn, were washed away when a culvert collapsed during flash floods last month.
Dunelm Homes has moved stones to the site to stabilise the area before the two-week long demolition begins.
The demolition work is expected to last at least two weeks.
Residents, who have been living in temporary accommodation since the floods, have expressed anger at the demolition plan.
Many now face complex negotiations over insurance claims relating the the loss of their home.
'Stricken apartment block'
Dunelm Homes owns the land on which the homes stand, while the culvert is on land owned by Northumberland Estates.
Neither company has accepted liability.
A spokesman for Dunelm Homes said: "We have received the necessary approval from insurers in order to enable us to instruct contractors to proceed with the demolition of the stricken apartment block at Spencer Court.
"It is expected that the work to dismantle the building will take at least two weeks to complete as progress will be dictated by site and weather conditions.
"A team from Dunelm Homes has been in regular contact over the last three weeks with residents keeping them up to date with progress and has let them know of this important development."