Tyne Tunnel wins engineering award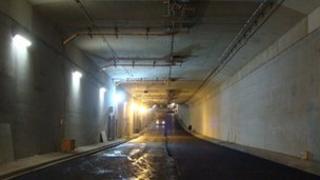 The Tyne Tunnel has won a civil engineering award at the British Construction Industry Awards in London.
The £260m project included the construction of a second vehicle tunnel and was completed in November 2011.
The judges said the project was "demanding, complex and epitomised excellence in quality and design".
It involved a new 1.5km immersed tube tunnel and refurbishment of the 1960s-built Tyne Tunnel to provide two traffic lanes in each direction.
Paul Fenwick, project director for the Tyne & Wear Integrated Transport Authority, which commissioned the project, said: "This is a tremendous compliment to the dedication and skill of so many people who worked on the project and who delivered it two weeks ahead of schedule.
"Tunnel users and especially the local communities of Jarrow and East Howdon, who supported the project so well, should be proud to have national recognition for such a piece of civil engineering excellence on their doorstep."