Your Homes Newcastle flats in Newburn could come down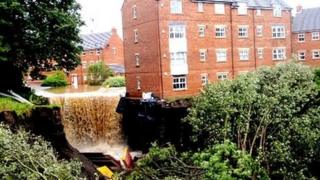 More homes could be knocked down close to a Tyneside block of flats already earmarked for demolition after floods.
Apartments at Hareside Walk and Hareside Close in Newburn, Newcastle, were evacuated following deluges last month.
Landlord Your Homes Newcastle (YHN) said the flats could now have to come down despite not being damaged by rain.
Work to prepare Spencer Court, the worst-hit building, for demolition started on Tuesday.
It was left on the brink of collapse after its foundations were washed away when a culvert collapsed on 25 September.
'Increased risk'
Developer Dunelm Homes said the stone to be used in "stabilisation work" had now been delivered to the site.
"The stone will be used to help stabilise the area around the stricken building and is required ahead of the planned demolition work," the company said in a statement.
While Spencer Court was sold as private housing, the 18 homes in Hareside Walk and Hareside Close were leased by social landlord YHN.
Chief executive John Lee said that although they had not been directly affected by the culvert collapse, roads and land around the blocks were "considered to present a risk".
"Any more extreme weather could further erode the bank adjacent to the blocks, resulting in an increased risk of structural damage," Mr Lee said.
Cash payments
"Engineering advice is to wait and see whether adjacent land and roads are stabilised as a result of the work that Northumberland Estates and partners are doing to solve the collapse of the culvert.
"This work may well take several months to complete. Then an assessment will be made as to the long-term future of Hareside Walk and Hareside Close."
Northumberland Estates, which owns the land where the culvert stands, has began work to clear debris from the area with Newcastle City Council on a without prejudice basis while liability is determined.
Tenants from the YHN blocks were assisted with transfers to new permanent addresses or long-term lets and supported with one-off cash payments to help towards the cost of clothes and other emergency items after they were evacuated.
They have since been allowed back into their homes to collect belongings.
About 40 million litres (8.7m gallons) of water was pumped out of the estate after the downpours.