Lost Newcastle United bet prompts River Tyne swim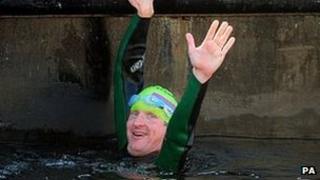 A football writer who lost a bet about the future of Newcastle United's manager has swum across the River Tyne to honour his side of the pledge.
Henry Winter said he did not believe that Alan Pardew would receive a long-term commitment when he was appointed boss of the Magpies two years ago.
Following the announcement of an eight-year contract, the Daily Telegraph writer took to the chilly waters.
He also used his swim to raise money for the Sir Bobby Robson Foundation.
Tony Greener, an experienced swimmer and organiser of the annual Tyne 10 Mile River Swim, accompanied him.
The pair, wearing wetsuits, set off from a pontoon at the base of the Tyne Bridge. It took them about five minutes to reach HMS Calliope on the Gateshead bank.
'Dragged along'
Mr Winter said: "The first two-thirds were a doddle and I thought 'This is OK, a nice gentle paddle across the Tyne'.
"But then suddenly the current hit and it was like the fast lane of the motorway.
"I could actually feel myself being dragged along and I was fortunate to have an experienced swimmer alongside me in Tony Greener.
"In fact, at one point I think I grabbed Tony's toe."
Referring to the late Sir Bobby Robson, who set up the cancer charity bearing his name prior to his death in 2009, Mr Winter said: "He was simply one of the greatest managers this country has produced and a great man."
On arrival, Mr Winter was wrapped in a Newcastle United FC towel and handed a note from Pardew.
The message read: "Henry, you're a man of your word and congratulations.
"I can't imagine how cold it was in the Tyne today but rest assured we'll give you a warm welcome when you arrive at the stadium later.
"What's more, well done for raising money to support the Sir Bobby Robson Foundation. It's a superb charity that's close to all our hearts here at Newcastle United."
Mr Winter said: "I thought it was a class act of Alan Pardew to send me a congratulatory note and a club towel.
"He was obviously confident I'd make it because he sent it to the Gateshead side of the river."