Planned sculpture designs on show in Consett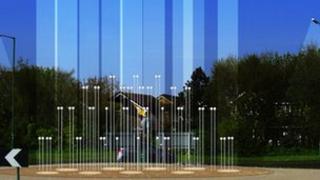 Designs for a sculpture planned for Consett in County Durham to celebrate its steelmaking history have gone on show.
Three pieces, created by artist Colin Rose have been installed at roundabouts in the town.
A fifth of Consetts's population left the town when its steelworks closed down almost 30 years ago.
Mr Rose will be talking about his plans at St Patrick's Church Hall until 14:00 BST.
The project is being funded by Durham County Council, Aviva and the Urban and Rural Renaissance Fund.
Councillor Neil Foster, Durham County Council's Cabinet member for economic regeneration, said: "The artist has used images of the town's past to inspire his designs, which use steel, with amber lighting to create the impression of molten metal."