WWI bomb store unearthed at Northumberland mine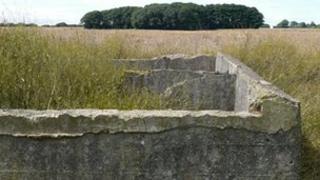 The remains of a World Ward I bomb store have been discovered at a surface mine in Northumberland.
The remnants of the concrete tore house were uncovered at Potland Burn surface mine near Ashington, nearly 100 years after it was in use.
It is one of only a few surviving buildings from World War I in Northumberland.
The former Ashington airfield was used by the RAF to conduct coastal patrols for three years until 1919.
Janet Brown, chair of North East War Memorials Project, said the bomb store was of "historical importance" and should remain at the site.
She said: "All in all this is such a unique find, not only at a local level but regionally and possibly even nationally.
"Whilst the structure is run-down and the surroundings overgrown, it is in reasonably good condition considering its age.
"I think the reason it is still standing is because of its remoteness. If that wasn't the case I believe it would have just disappeared."