Flooding at Newburn flats: Demolition 'to start next week'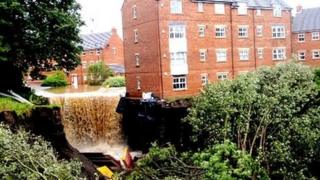 Demolition work at a block of flats on the brink of collapse after flooding on Tyneside is likely to begin next week, developers say.
The foundations of Spencer Court, in Newburn, were washed away when a culvert collapsed on 25 September during flash floods.
Dunelm Homes is to move stones to the site to stabilise the "Niagara effect" of water gushing from the culvert.
It will also provide a platform for the machines needed for demolition.
Geoff Woodcock, a director of Dunelm Homes, said: "Initial proposals were to come on to the site via Mill Vale, but we will now be gaining access through land owned by Northumberland Estates.
"This will involve removing an elevated walkway, but we plan to run heavy stone through that route, starting tomorrow [Friday] lunchtime.
"It will provide stability to the edge of what people are calling the "Niagara effect", and provide a platform for the demolition machines to come in.
"Demolition is likely to begin between Wednesday and Friday next week."