City of Adelaide: Protest over plan to export rudder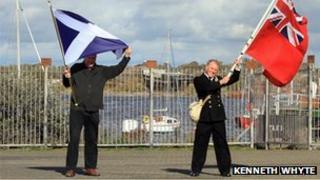 Campaigners have mounted a protest at the site where a 148-year-old clipper ship is being prepared to be sent from the UK to Australia.
The City of Adelaide was built in Sunderland in 1864, but has lain on a Scottish slipway since 1992.
The ship's rudder is due to be the first section sent to Australia to become part of a heritage complex.
A group from Sunderland travelled to Irvine to highlight its campaign for the vessel to return to Wearside.
A consortium from Adelaide, Australia, won a bid to turn the ship into a heritage and tourist attraction in 2010.
The vessel's 30ft (9m) rudder, which became separated from the main ship in 1988, is about to be the first section shipped to Australia, but the rival group from Sunderland wants that halted.
The Sunderland City of Adelaide Recovery Fund (Scarf) has said the vessel should return to the city where it was built as a maritime attraction and museum.
The ship's owners, the Scottish Maritime Museum and Historic Scotland, support the proposed export of the rudder and hull and have dismissed plans by Scarf to move the ship to Wearside as "not technically feasible or properly costed."
A museum spokesman said the rudder was "in transit" and would be in Australia by late November.
But Peter Maddison, from Scarf, which is considering legal action to prevent the export of the rudder, said: "We wanted to come up to Scotland to show that we are still absolutely committed to getting the Adelaide back to Sunderland."
Scarf is planning to seek a judicial review in the Scottish courts in an effort to block the export of the rudder.
The City of Adelaide project in Australia said they expected the main ship to leave Scotland in the spring of 2013.