Newcastle Airport loses case over £8m paid to directors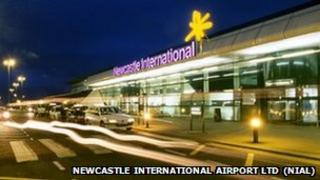 Newcastle Airport has lost a high court battle over claims two directors were allowed to negotiate themselves millions of pounds in bonus payments.
The airport claimed law firm Eversheds should not have taken instructions from the men about their own contracts.
John Parkin and the late Lars Friis got £8m between them after securing an airport refinancing deal in 2006.
A judge ruled airport bosses failed to properly scrutinise the contracts and the law firm was not at fault.
Newcastle International Airport Ltd said it "respects" the judgement, but is "disappointed".
The airport claimed Eversheds had been in breach of its duty, when bonuses were awarded to former chief executive Mr Parkin and his then finance chief Mr Friis, who died in 2006, for securing a £377m mortgage deal with the Royal Bank of Scotland.
The judge said any loss to the airport, which is co-owned by seven local councils, was because its non-executive directors "failed" to carry out their obligations.
It said it will now enter into discussions with legal advisors and consider whether or not to lodge an appeal.
A spokesman for Eversheds said: "The judgment clearly states that we acted in good faith on the basis of instructions, which it was entitled to accept. We hope that this now concludes this matter."