Union condemns North Tyneside worker outsourcing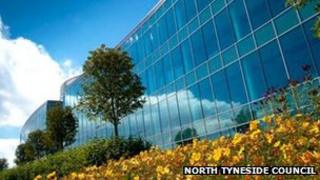 The outsourcing of some council workers to two private companies has been described as "gung-ho" by a union.
North Tyneside Council is to transfer 800 workers to Balfour Beatty and Capita Symonds.
The council described the recently-signed 10-year contract as "a great deal for council taxpayers and staff" which would lead to savings of £65.1m.
However, the public sector workers union, Unison, said it would campaign to stop the transfer.
The workers will be moved through a Transfer of Undertakings Protection of Employment (TUPE), which means that their terms and conditions remain the same.
Areas affected include revenue and benefits, ICT, customer services and environmental health.
'Bad step'
The council, which is run by a Conservative elected mayor and cabinet, currently employs about 4,000 people excluding teaching staff.
Mayor Linda Arkley said: "In the interest of our residents and our staff, North Tyneside Council had to set a new direction in how it delivers services for the future to achieve the efficiencies we needed, while securing the future of those services and our employees.
"Both partners, who will co-locate with the council in its current headquarters, are committed to delivering for our customers, who can be reassured that they will not experience any dip in service, and in the future will see improvement in service based on the investments being made by the partners."
Unison said the vast majority of councils had moved away from outsourcing, and described North Tyneside was "swimming against the tide" with the mayor being "very gung-ho in this respect".
Regional convener, Claire Williams, added: "We're obviously very concerned for both our members and the jobs and services they provide.
"We don't believe that the outsourcing as proposed by the council is beneficial to anyone.
"We have been working with members and the community to persuade the mayor that this a bad step to take, and we will be campaigning to stop the transfer as long as we can."