Water pumped from flooded Newburn estate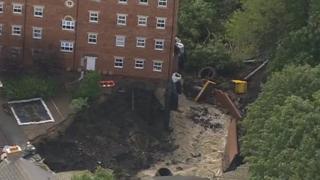 More than 40 million litres (8.7m gallons) of water has been pumped out of a Tyneside estate where flooding left a block of flats near collapse.
Residents of 51 homes at Spencer Court and Millvale at Newburn, Newcastle, were advised to leave after torrential rain brought flooding last Wednesday.
The flats are to be demolished after floodwaters washed away foundations.
Experts said they were now working to access a nearby underground culvert, which ruptured during the downpour.
Most residents affected have been found temporary accommodation or are with relatives, although four families are still being put up a leisure centre.
'Deepest sympathy'
A spokesman for Northumberland Estates, which owns the land where the culvert is, said: "The emergency services have been working on site with our own engineers and collectively we have removed about 40 million litres of water which has been pumped into a nearby dene.
"This has reduced the overall level of water we are dealing with by about four metres."
He said a shaft was being sunk to reach the damaged culvert, 12 metres (39ft) underground.
A spokesman for developer Dunelm Homes, which owns the land on which the affected homes stand, said it was offering "practical help" to residents.
He said: "Firstly, we repeat our deepest sympathy and concern for property owners who have suffered from these devastating events.
"We have put in place practical support for those who have been affected, including free legal support and advice on dealing with their insurers, site security, help with removals, cleaning up and general advice.
"We are currently engaged in a series of communications and meetings with individual property owners in respect of their specific queries and circumstances.
"We purchased the site in 2002 and started selling homes in 2005. Most sales were completed by 2010.
"We inspected the culvert running under our site before we made the purchase in 2002 and it was in good condition. It was re-inspected after an initial flood in May and June 2012 and it was once again reported to be in good condition.
"We have suffered substantial damages in connection with these events, but that is insignificant in comparison with the experiences of the property owners who stand to either lose their homes or who have suffered damage to their homes."
Residents in need of assistance can call Dunelm Homes' helpline 07771 930 287.