More Newburn flood-hit residents told to leave by council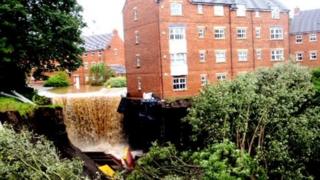 Residents of 51 homes near a flood-hit area in Newcastle have been advised to leave as a precautionary measure, Newcastle City Council have said.
It said 10mm of rain forecast for Sunday could cause a dene north of the estate in Mill Vale in Newburn, which is full of water, to overflow.
The council advised residents they faced two weeks away from home.
A block of flats in Spencer Court, left in danger of collapse by floods on Tuesday, are due to be demolished.
'Threat will remain'
The council said the demolition is "likely to start next week".
On Thursday, two further blocks of council flats were evacuated amid fears Spencer Court could collapse.
Residents of Hareside Walk and Hareside Close had been allowed home but were asked to leave again.
Henri Murison, from the council, said: "In making this decision we have wanted to give people plenty of time to consider the advice and pack their belongings."
Further rain is forecast, at this stage, for next Friday which is why residents are being told to be prepared to be out of their homes for up to two weeks, the council said.
On an emergency basis, the city council said it has committed £500,000 towards the costs of cleaning up High Street, Newburn, which was also severely affected by flooding.
A free temporary bus service for residents has been laid on by Nexus until normal services are resumed and a rest centre has been set up at Newburn Activity Centre for residents to go to.
Inspection report
A spokesperson for Northumberland Estates said: "Northumberland Estates sympathises greatly with the residents of Mill Vale as they make the difficult decision over whether to leave their homes for the next two weeks.
"A number of residents raised safety concerns at the meeting on Thursday night and this has to be the main priority for all of the team working to resolve this problem.
A culvert near the damaged flats collapsed in May but the force of floodwater on Monday eroded soil and a waterfall formed close to the flats.
Developer Dunelm Homes owns the land on which the homes stand, while the culvert is on land owned by Northumberland Estates.
Northumberland Estates said it was working hard to find a long-term solution but said there was little it could do "in the face of such very extreme weather conditions until the culvert can be cleared".
Dunelm Homes said it was attending emergency meetings and providing whatever assistance and support it could.
Northumberland Estates' engineers told told the public meeting on Thursday that an inspection had been carried out and the report was expected to confirm the flats are beyond saving.