Whale found on Northumberland beach was unusual species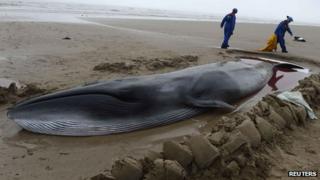 A whale that was put down in Northumberland was a rare Sei whale, experts have now said.
The female 26ft (8m) whale, originally thought to be a minke whale, was put down after it was stranded on a North Sea beach in Northumberland.
Experts from the British Divers Marine Life Rescue (BDMLR) charity went to her aid when she was found in Druridge Bay at about 07:00 BST on Wednesday.
The charity said it was an unusual species to find stranded in the UK.
The whale was assessed as being too thin to be returned to the sea.
'Bile staining'
After treatment, the "massively underweight" female whale was put down because of her condition.
BDMLR operations director Stephen Marsh said: "Sei whales are an unusual species to find stranded in the UK.
"The whale which stranded is the sixth in the UK since the inception of the Cetacean Strandings Investigation Programme (CSIP) in 1990 and only the 16th since the Natural History Museum began collecting data on UK strandings in 1913."
The CSIP said the post-mortem test revealed the 8.6m juvenile female Sei whale was in moderate to poor nutritional condition, with comparatively thin blubber deposits and bile staining of the intestinal tract indicated a period of starvation.
The mammals can live up to 65 years and swim up to 55km per hour.
'Pretty unusual'
Rob Deaville from the CSIP, which is funded by Defra, carried out the post-mortem examination on the Sei whale along with a colleague.
He said another Sei was found in Scotland six weeks ago.
"We've had two together in a short space of time," he said.
"It is pretty unusual. We don't know for sure what's caused them to come into shallow waters."
Mr Deaville said between 400 and 600 whales become stranded around the UK each year. Post-mortems are carried out on around a quarter of those to find out more about the threats they face.
Further test results will be examined to establish whether or not the whale found at Druridge Bay had any underlying infections.