New home in Durham for Battersea dog Blackie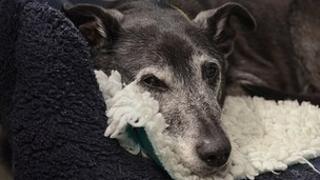 The oldest dog ever to arrive at London's Battersea Dogs Home has found a fresh start 250 miles away in Durham.
Blackie aged 19 - the human equivalent of reaching 133 - was handed in to staff after his owners decided they could no longer care for him.
But the elderly mongrel impressed so much with his zest for life he was given his own Facebook page.
His profile caught the eye of Shirley Buchanan, from Gilesgate in Durham, who has now adopted him.
Blackie was brought to the North-East by Battersea's rehoming and welfare team leader Sieglinde Schuster.
She said he quickly made friends with Ms Buchanan's two curly-coated retrievers, Hope, who is six, and Breeze, who is four.
Ms Buchanan said: "I feel older dogs can get overlooked as people often want young dogs, but the golden oldies have so much to give.
"I've rehomed older dogs before and found it a rewarding experience. When I saw Blackie online I just felt drawn to him. He's an absolute joy to be around and I'm so pleased he's come to live with us.
"Everyone we meet wants to make a fuss of him so he's lapping up the attention.
"The first night he curled up in his bed next to mine, but he now finds the settee and my bed more appealing.
"Battersea is a long way from Durham, but the staff at Battersea were really helpful and accommodating, going the extra mile for Blackie."
The average age for a dog depends on its breed. Battersea has already cared for seven dogs aged 15 or older, but Blackie was the oldest resident.