City of Adelaide: Legal fight to halt export of rudder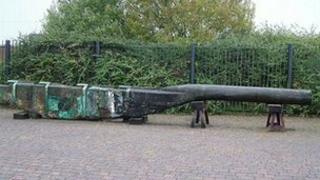 Campaigners hoping to block the export of part of a 148-year-old clipper ship from the UK to Australia, are considering seeking a judicial review.
The City of Adelaide was built in Sunderland in 1864, but has lain on a Scottish slipway since 1992.
The ship's rudder, which was separated from the main vessel in 1988, is due to be the first section sent to Australia to become part of a heritage complex.
A group from Sunderland is to ask the Scottish courts to prevent the move.
A consortium from Adelaide, Australia, won a bid to turn the ship into a heritage and tourist attraction in 2010.
The vessel's 30ft (9m) rudder is about to be the first section shipped to Australia, but the rival group from Sunderland wants that halted.
Crumbling ship
The Sunderland City of Adelaide Recovery Fund (Scarf) has said the vessel should return to the city where it was built as a maritime attraction and museum.
The ship's owners, the Scottish Maritime Museum and Historic Scotland, support the proposed export of the rudder and hull and have dismissed plans by Scarf to move the ship to Wearside as "not technically feasible or properly costed."
The rudder is due to leave within the next few days.
But Peter Maddison, from Scarf, said: "We absolutely believe that in challenging the export of the ship's rudder we are preventing an illegal act and we are putting together the evidence to make it stand up.
"We are in possession of a scientific and historical paper, focused entirely on the ship's rudder, which beyond any doubt proves that it was an integral part of the ship and protected."
The Scottish Maritime Museum said plans to export the rudder were well advanced and would continue.
A spokesman for the City of Adelaide project in Australia said they expected the rudder to arrive at Port Adelaide by the end of October.