Flooded Newcastle father 'mentally scarred' after landslide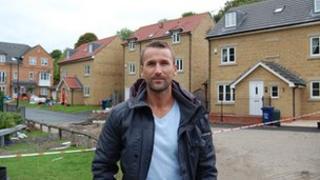 A man who was forced out of his home after flooding caused the land to subside says he is "mentally scarred" by the ordeal.
Greg Blyth who lives in Spencer Court, Mill Vale, Newcastle, was told by police to evacuate his home with his family on Tuesday morning after the land outside his house subsided.
And he said he now fears if he tried to sell the house nobody would want to "touch it with a bargepole".
Residents from a block of flats in nearby Spencer Court were also evacuated after the foundations of the flats were badly damaged when floodwater gouged out the ground beneath them.
The exhausted father of two said the priority for him and his wife Anna is to start a "new life for the family".
'Anger and frustration'
Mr Blyth said: "I'm feeling extremely tired today, I think everybody is who has been affected.
"I don't think anybody wants to be here because the ground looks so unsafe.
"The anger and frustration and everything else have been put to one side and it is all about trying to be there for the family."
Mr Blyth has two children, aged three and one. The family have been staying with Mrs Blyth's parents since having to evacuate the house on Tuesday.
They have been flooded four times since they moved to Mill Vale six years ago.
A culvert on Northumberland Estates land collapsed in June but the force of floodwater on Monday eroded soil and a waterfall formed.
The land opposite Mr Blyth's house subsequently subsided from the force of water coming down from the waterfall.
The water flooded the downstairs of their home.
Northumbria Police made the decision to evacuate the area on Tuesday after what the Met Office called the most intense September storm for 30 years.
Mr Blyth said he was struggling to "find the energy" to focus and fight for the family home.
"It was upsetting, but you don't even have the time to even think about that, you just want to get them [his children] to safety," he said.
"This is minor compared with the flats but it is starting the same way.
"The land is basically moving in and in and it's getting closer to the apartments and our house.
"It's mentally scarring, the amount of damage it created, I feel for everybody in the estate."
'Close-knit community'
Mr and Mrs Blyth were given about 15 minutes to get their belongings out of the house while their neighbour looked after their children.
Mrs Blyth said she was "really angry and frustrated" after the "horrendous" ordeal.
The couple intended to move from the home and had an estate agent value the property last week.
Mr Blyth said: "We have put a lot of our hard earned money into this house... and now it's worth nothing.
"Nobody is going to come near this with a barge pole unfortunately, and I wouldn't blame them.
"I haven't seen anything like it in my life, and I don't want to again, I just want to get out of this area and move on and start a new life for the family."
The family are now looking for somewhere to rent as a temporary measure.
Another resident, Jane Harrison, was also evacuated on Tuesday morning but has since been allowed back into her property which is about 15m (50ft) away from the subsided land.
She said: "To be quite honest, we are not getting any answers to why we have been allowed back in, the properties two doors away haven't been allowed back in.
"It's just a case of pack a bag in case you have to get out at short notice again.
"I feel very unsafe. Having to look at this [the landslide] every day is not good.
"I am just going to carry on as normal, I have to. Your life can't stop because of this, so yes, we will just carry on.
"We are a really close-knit community here - everybody has bonded together and hopefully we'll get some answers.
"We just need to know why."
Residents of Mill Vale and Spencer Court will attend a public meeting later.