Morpeth residents in flood waiting game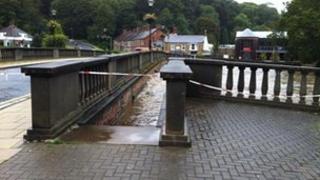 Residents in Morpeth have spoken of playing a waiting game to see if their homes will be damaged by flooding again.
In 2008 nearly 1,000 properties were flooded in the Northumberland town when the River Wansbeck burst its banks.
On Tuesday dozens of homes were evacuated as a precaution.
One of those affected who had gathered in the town hall was Cameron Blackhall, who was unable to return to his home for eight months after the 2008 floods.
"We had a warning yesterday, that was an amber warning," he said.
"We started to put stuff upstairs - fortunately we have got two floors above us. Then this morning about 5am we had another flood warning.
"From that point on more stuff went upstairs and flood barriers were put in place and we are keeping our fingers crossed that they are going to work."
Mr Blackhall said four years ago they had 4ft (1.2m) of water in the house and he hoped this would not be repeated.
"I am reluctant to go and have a look but hopefully the house may be OK this time," he said.
Resident Jennifer Saunders said she had had to be rescued from her house and two of her cars had been damaged.
"I opened the curtains and the water was up to the lower window ledge and as I went around to the back of the property... it was completely surrounded."
Morpeth mayor Mark Horton said: "There's a couple of flood boats going around the High Stanners area looking for people.
"If you see the water rising, and you think you are going to be compromised, make yourself known to them and they will be able to rescue you, or at least get help to you."
Alan Bell, the chairman of Morpeth Flood Action Group, said: "We are on alert in the whole town and the worrying thing is if the existing flood defences are breached there will be large areas of Morpeth that will be flooded."