North East floods: Roads closed by flooding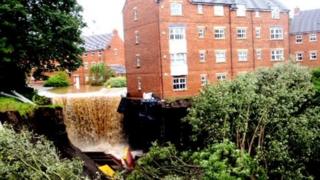 A row of houses in Newcastle is close to collapse after flooding returned to the region.
Heavy rain forced people to be evacuated from the homes and caused travel disruption around the north-east.
Police said 80 homes had been evacuated in Morpeth in Northumberland as a precaution.
The homes at Spencer Court in Newburn could fall at any time, the Fire Brigade said.
Resident Bruce Watson was among those evacuated.
He said: "I think we're going to head up to my partner's mother's house in Morpeth but Morpeth is flooded so I don't know how we're going to get up there."
Elsewhere in Northumberland, homeowners and businesses in Rothbury were forced to take precautions.
Christine Williams said she was more prepared than when the floods hit in 2008 when her house was partly protected by "ice cream tubs".
Rothbury councillor Steven Bridgett praised everyone involved for their response to the floods.
He said: "Compared to the floods of 2008 the one thing that was evident from today was the coordination between all of the partner agencies, everyone on the ground today worked as a team."
The River Wear burst its banks in Chester-le-Street as heavy rain continued throughout Tuesday.
Durham Police said it had received reports of "impatient drivers moving cones to drive through closed roads".
The force warned this was inconsiderate and dangerous.
Tyne and Wear Fire and Rescue Service said its control room has received around 128 flood-related calls, and they have assisted in the evacuation and rescue of people in Gateshead and Newburn.
Dozens of houses were also evacuated as a precautionary measure in Dudley, Gateshead, Newburn, Rothbury, Washington and County Durham.
'Roads treacherous'
Northumberland County Council advised parents to consider keeping children at home because of the dangerous conditions on the roads.
Roads around the region were heavy with traffic at rush hour despite Durham Police urging employers to allow staff to leave work early.
The A690 in Sunderland could be closed westbound between the Stoneygate junction and the A19 for three days after a section of the road gave way under heavy rain.
Rail services across the north of England were affected by the severe weather with delays of up to an hour on some routes.
The East Coast mainline was badly affected and trains started running in both directions at around 17:00 BST although the operator said only two services an hour would run between Darlington and York.