Nissan recalls 51,000 Qashqai, Qashqai+2 and NV200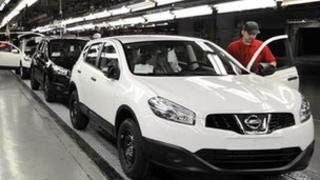 Nissan are to recall 51,000 cars for "precautionary" checks on their steering wheels.
The Sunderland-based car manufacturer is recalling 48,000 Model Year 2012 Nissan Qashqai and Qashqai+2 and 3,000 Model Year 2012 NV200 cars.
The company said about 600 steering wheels would need to be replaced.
About 7,000 were bought in the UK while others were shipped to Africa, Asia, Europe, Latin America and Caribbean, Middle East and Oceania.
Nissan said the vehicles affected were all built at the Sunderland plant between February and May.
A spokesperson said: "Nissan retailers will inspect the casting date of the steering wheel armature and where necessary replace the steering wheel at no cost to the customer."
The company also said it was "working with its dealers to promptly address this issue".
The recall follows a complaint of a loose steering wheel from a customer in Finland in August.