Tyne Tunnel 2K wheelchair race to speed under the river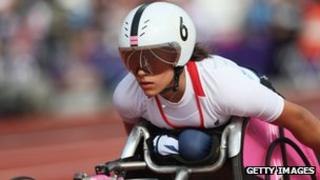 One of the world's fastest wheelchair races will briefly close a road tunnel under the River Tyne.
The Tyne Tunnel 2K has attracted world champions and Paralympic racers including Jade Jones, from Teesside, and Simon Lawson, from Cumbria.
Organisers say the world-class athletes find the combination of speed and stamina "irresistible".
The northbound tunnel will close at 21:00 BST and should reopen within 15 minutes.
Starting with a 200m sprint to the south entrance of the tunnel, the athletes then face a fast downhill stretch during which they can reach 50mph or more.
From halfway there is a steady but difficult climb up the 1 in 20 gradient towards the north end of the tunnel.
'World class'
Middlesbrough's Jade Jones became the race's youngest competitor in 2010, when she was 14.
She came a close second in the women's race, repeating the achievement in 2011.
Chief executive of the tunnels' operator TT2, Rachel Turnbull, described the race as a "world-class event that allows the very best international wheelchair athletes to show off their talents right here on Tyneside".
The original Tyne Tunnel opened in 1967 and the second tunnel was officially opened by the Queen in July this year.
Both connect the A19 in East Howdon north of the Tyne with the A19 through Jarrow in the south.
The southbound tunnel will be unaffected by the race.