Sir Bobby's £1m cancer treatment machine opened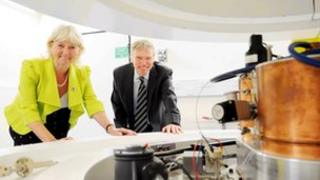 The widow of Sir Bobby Robson has officially opened a £1m cancer treatment machine in Newcastle.
The PET Tracer Production Unit at Newcastle University is the first in Europe and one of two worldwide.
The Sir Bobby Robson Foundation contributed £625,000 towards the unit, which was officially opened by Lady Elsie Robson on Wednesday.
She said she was pleased to see the unit open and "very proud" it has been named after her late husband.
Scientists at the university say the machine will "revolutionise" the diagnosis and treatment of cancer in the north east of England and Cumbria.
'Great kindness'
Using biomarker technology, it works by putting markers in the body to detect the size and location of a cancer.
The information collected helps doctors see how serious it is and the underlying processes and pathways that are causing the illness.
Lady Elsie said: "I'm very grateful to the foundation's medical trustees and Newcastle University for their hard work in making this possible.
"I'd particularly like to thank the many thousands of people who support the Sir Bobby Robson Foundation through fundraising events and by giving donations large and small.
"Their great kindness and generosity is the only reason we have been able to buy the biomarker generator.
"It's truly humbling to think how much time and effort has gone into raising the £625,000 needed for this new equipment and I hope that everyone who has supported the charity in any way shares my feelings of pride and achievement today."
The machine will be tested to ensure it meets international clinical standards and will be used for patients later this year.