Josef Craig celebrated with gold Jarrow postbox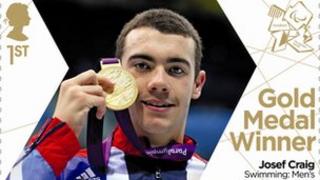 Great Britain's youngest gold medallist of the Paralympic Games has been honoured with a gold postbox in his home town.
Swimmer Josef Craig from Jarrow, South Tyneside, set a new world record in the S7 400m freestyle final.
The 15-year-old is also being celebrated with his own first class stamps featuring his image.
The red postbox at the post office on 31 Grange Road in Jarrow, was painted gold on Saturday.
The teenager, who has cerebral palsy, finished the race in four minutes, 42.81 seconds.
A 'dream'
"It was just amazing, I didn't even expect to go in with a chance of being anywhere near a medal."
Josef said he thought the clock was broken when he checked his time.
He added: "It's been my dream to be famous and successful since I was a little kid.
"Now that it's happened it's just amazing. It's everything I thought it would be."
Josef said he had been overwhelmed by the support from the North East.
"For them to be switching off football games and all the other sports to watch my race is something special," he said.