Olympic champion Mo Farah to start Great North Run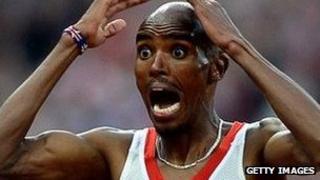 Mo Farah will be among five London 2012 gold medallists to perform the role of starter at the Bupa Great North Run.
Up to 55,000 people are expected to take part in the famous half marathon on 16 September.
Farah had been due to compete for the first time but has withdrawn as he has not had time to train for the distance.
As honorary starter he will be joined by rower Kat Copeland, long jumper Greg Rutherford, boxer Nicola Adams, and Paralympic swimmer Ellie Simmonds.
There will also by a fly-past by the Red Arrows display team.
Farah, who won gold in the 5,000m and 10,000m in the Olympics, said: "I'm sorry not to be able to take part in the Bupa Great North Run but the last few weeks have taken their toll and it would be disrespectful to take on the distance without the necessary hard training."
He said he was looking forward to "high-fiving as many people as possible" at the start of the race.
A knee injury has also forced the withdrawal of Ethiopian running legend Haile Gebrselassie, who won the event in 2010.
Organisers said they were working on replacements for the elite field.