Druridge Bay skinny dippers set to attempt world record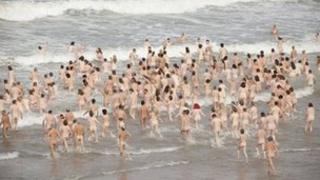 Swimmers are preparing to bid for a record-breaking skinny dip, on the Northumberland coast.
Jacqueline Higginson, from Sunderland, is urging as many people as possible to take part in the attempt, at Druridge Bay on 22 September.
Miss Higginson, 34, took part in a previous Guinness World record dip last year in Wales.
Everyone who takes part in the North Sea attempt is expected to get at least waist deep during the sunrise swim.
Miss Higginson, a paramedic, said she loved every minute of the event on Rhossili beach last year when 413 people took part.
"I think it was arranged after a few drinks in the pub but it ended up being an amazing experience," she said.
"I didn't realise that it was going to be so big, it really was quite unique and there have been quite a few groups trying to beat it."
'Amazing atmosphere'
Miss Higginson knows Druridge Bay, which is owned by the National Trust, very well and insists it is the ideal spot for a skinny dip.
She said: "I'm a really keen sea swimmer around the Northumberland coast and it seemed like the perfect place.
"It's such a long beautiful beach and it's also quite secluded. I'm going to do it really, really early in the morning.
"I would say to people to get registered, come down on the morning and see how you feel.
"There's no pressure, if you don't want to do it that's fine but I would bet my last penny that you'll do it because the atmosphere will be amazing."
Organisers are hoping to raise over £2,000 for the mental health charity MIND.
Registration costs £10 with the costs going towards insurance.