Tyne Bridge Olympic rings to come down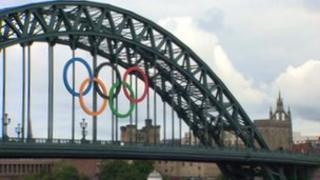 Disappointed council leaders have lost their bid to keep the Olympic rings on the Tyne Bridge for the rest of 2012.
The aluminium rings were installed on the bridge in June ahead of Newcastle hosting Olympic football matches.
Newcastle City Council had hoped to keep them up for the Great North Run and until the end of the year but have been told that cannot happen.
Council 2012 director Stephen Savage said they had to be removed to "avoid breaching brand protection guidelines".
Work to remove the rings will start on 7 September and is expected to be completed by 10 September.
Mr Savage said: "It was always the understanding that they would come down for the Great North Run.
"But since the end of the football we have been writing to say 'please will you not implement that part of the agreement'. But they have said 'no'.
"They have been excellent for the city in terms of an iconic symbol and we wanted to keep them for as long as possible.
"We are disappointed we couldn't get an extension."
The aluminium rings are about 25m (80ft) wide and 12m (40ft) high, making them the largest set of metal Olympic rings in the UK.
Mr Savage said the hope was to keep them until the end of the year so they would still be there for the Great North Run on 16 September, with thousands of people running the half marathon between Newcastle and South Shields.
The rings will now go into storage until a decision is made about what to do with them.
The city council is talking to Olympic organisers in Brazil about the possibility of exporting them there for the next games.
A spokesman for London 2012 Organising Committee (LOCOG), said: "Prior to the installation of all of the large scale Olympic Rings a contract between LOCOG and the host town was drawn up.
"These contracts included a de-installation date agreed by all. For Newcastle the rings must be down before 14 September.
"From the outset the funder and local authority were aware of the need to remove the rings in advance of the Bupa Great North Run to avoid breaching the brand protection guidelines."