Lalique vase found in Northumberland could fetch £30,000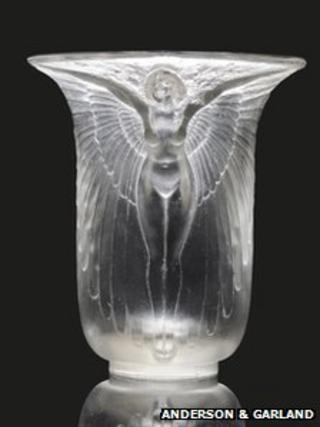 A Lalique glass vase found in a house in Northumberland could sell for £30,000, auctioneers have said.
Found in a box during a routine probate valuation at a house in Morpeth, the vase is thought to have been used to store flowers.
Auctioneers Anderson and Garland described the six-and-a-quarter inch (16cm) artwork as "Deux Figures Femmes Aillees".
The auction of Lot 208 is expected to take place in Newcastle on Tuesday.
Julian Thomson, director at Anderson and Garland, said: "When I saw the vase, it immediately caught my eye.
"It soon become apparent that this was quite a special find - the vase is just one of four and is a limited edition."
It features two winged female nudes with outstretched arms.
According to the auctioneers, the vase was produced in 1922 and has the R Lalique wheel engraved mark, and a full and partial thumbprint on its base.
The vase was made in a process known as cire perdue.
It involves a wax model being covered in plaster before it is heated and the liquid wax replaced with molten glass.
Renee Lalique is recognised as one of the world's greatest glass makers and jewellery designers of the Art Nouveau and Art Deco periods.
Mr Thomson added: "Although it is currently valued between £20k-£30k, we are already experiencing a lot of interest in the piece and believe the final figure could be significantly higher, depending on what happens on the day."