Triple goal scorer Steph Houghton 'bends like Beckham'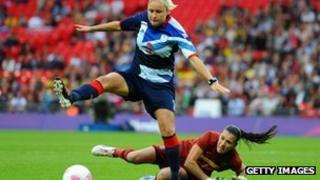 She names David Beckham and Steven Gerrard as her heroes.
But in the last few days football fans have probably been talking about Steph Houghton more than either of these two famous names.
The 24-year-old has caused a sensation by scoring in all three matches for Great Britain women's team, helping the team to win its group.
And later, she will try to keep up the goal-per-match pace, when the team take on Canada in the quarter-finals at Coventry before a near sell-out crowd.
A week ago, Miss Houghton who comes from the mining village of South Hetton, in County Durham, had a respectable couple of thousand followers on Twitter.
But after scoring the winning goal against Brazil at Wembley on Tuesday, watched by a crowd of 70,000, that figure has soared to almost 22,000.
'Superbly struck'
The former Hetton School pupil and her fellow-player, Jill Scott of Monkwearmouth School, were both schoolgirl players for Durham County Schools' Football Association (DCSFA).
And DCSFA has been proudly keeping locals up-to-date on the pairs' Olympic progress on its website.
It describes Miss Houghton's goal against New Zealand as a "superbly struck free kick from about 25 yards" and that the goalkeeper had "no chance" of saving it.
Miss Scott's goal in the next match against Cameron is described as "an excellent move", the website boasts.
Miss Houghton plays for Arsenal Ladies and is described by her team as a "hugely versatile" and "talented" player.
Mick Mulhern, the Sunderland Ladies' football coach, watched both North East girls blossom on the pitch for years and believes they will inspire a new generation of players.
'Always a striker'
He said: "There has been a massive upsurge in interest in women's football, but we probably won't see the results for eight or nine years.
"There will be girls of six or seven watching and will want to play and will be future internationals.
"People are saying about Steph, where are these goals coming from, she is a fullback?
"But actually she is not, she started out as a striker and scored 21 goals in our promotion season at Sunderland.
"We eased her through the midfield and now she is a fullback - but once a striker always a striker."
And with regard to the women's chances against Canada, Mr Mulhern said: "They were at Sunderland for several years but now they are shooting for their country - I'm very proud of them - they are great.
"They've got a chance to showcase their skills against Canada - they are a tough, well-organised side and it is a quarter final so anything can happen.
"I think the women will be too strong for Canada, hopefully."
Back in South Hetton, Miss Houghton's family are rooting for her.
Grandmother Doreen Houghton said: "I've been down to Arsenal for all the games, every time she plays at home - we just stop at our Steph's house.
'Enjoy and smile'
"I would to love to see her bring back gold, I hope we don't put a jinx on her. But really any medal would be brilliant."
Her cousin Harry Houghton, seven, has also been impressed. He said: "She was good when she scored the goal against Brazil - she was mint. Come on Steph."
Asked recently what advice she would give to aspiring players, Miss Houghton said: "To always enjoy playing, never take anything for granted and always work hard.
"But most importantly enjoy and smile."
On her Facebook, Miss Houghton describes playing at Wembley in front of 70,000 supporters, as "one of the best nights of my life".
And to her fans she wrote: "Thank you again for your support, amazing."