Hownsgill viaduct to be fitted with anti-suicide fences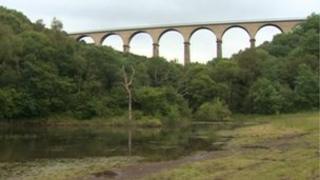 A protective steel fence is to be fitted to a County Durham landmark to prevent suicide attempts.
The 155-year-old Hownsgill Viaduct near Consett has been described as a suicide "hot spot" by Durham County Council.
It said the current deterrent - a small sign with phone numbers for NHS Direct and The Samaritans - had been unsuccessful.
There have been five deaths there this year and, in the first half of 2011, there was one every two weeks.
Stephen Shaw, who owns the land directly beneath the viaduct, regularly helps police recover those who have jumped.
"We've lived here all our lives and, now and then, we get asked to bring the bodies out and it's devastating," he said.
'Visually intrusive'
He thought the new fence would be "intrusive" but believed that was acceptable "if it saves one life".
The grade II listed former railway bridge is used by walkers, riders and the 250,000 cyclists a year following the C2C cycle route which crosses it.
Durham County Council is concerned that the current barrier against the 175ft (53m) drop is easy to climb or even roll over.
Corporate director for neighbourhood services Terry Collins said: "Safety on this popular viaduct is paramount for the council but, as it is a listed structure, it has taken some time to arrange for the necessary work to be carried out."
The council plans to erect a steel tube and cable fence which will curve back towards the centre of the viaduct's path, creating a partial cage.