Groupon's Amble sea angling deal criticised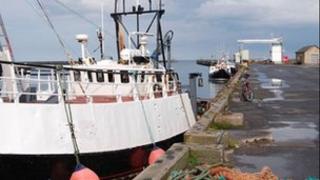 Boat operators in a Northumberland town claim its reputation is suffering because of problems with a deal with the US voucher firm Groupon.
The firm advertised discounted sea fishing trips from Amble but skippers say customers cannot find the boat.
Operator Dave Builth said he had been called by people trying to find their boat but was unable to help them.
Groupon confirmed that the deal was "on hold" because the charter firm was unable to currently fulfil it.
'Bad impression'
Its website advertised a "Sea Fishing Experience" with Coquet Island Charters but some other charter skippers say people have arrived with no information, seeking help.
However, Norma Urwin, a fishing tackle dealer who also runs charter trips, said she had never seen a boat run by the company.
"None of our charter skippers have seen the boats," she said. "It's a small town so you get to know and you get to see everything, there's lots of eyes and ears on the harbour."
She said the confusion "creates a bad impression", especially if other boat owners cannot accommodate the visitors.
'Personal situation'
Mr Builth said local practice was to arrange trips directly with a boat's skipper so customers knew where to go and who to ask for.
"It's not doing the port any good at all, and it's not doing the other skippers any good," he said.
Groupon said the charter skipper concerned had a "personal situation" and it had told customers the deal was "on hold to allow him to resolve it".
It said customers had been offered a refund if they did not wish to wait and added that it had had "very few complaints".