Vikings in North East return as thanks for Christianity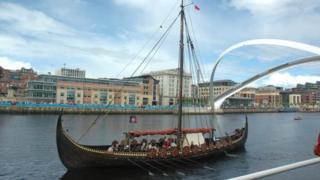 A Viking longship has returned to the banks of the River Tyne to say thank you to the north-east of England for bringing Christianity to Norway 1,000 years ago.
Hundreds of young Norwegians arrived in Newcastle on Sunday, as part of a community project working alongside more than 70 churches in the region.
The last time the Vikings were in the region in the 1400s it was to invade and pillage. This time, they are saying thank you for their Christian Heritage, birthed and enabled from the city.
Kay Morten Aarskog, from the organisation Youth With a Mission in Norway, sailed on the ship into the river.
He said: "When the Vikings came here back in the old days, they brought with them the Christian Gospel when they came back to Norway.
"We are giving a formal thank you on behalf of the Norwegian people to your ancestors and the people living in the North East now."
During the Olympics, about 300 Christians aged between 15 and 70 will be serving in churches around the North East, hosting events, children's clubs and social action projects.
Mr Aarskog said: "I have been interested in looking at what did happen when the Christian Gospel came to Norway, how did it change our nation and how did it change the people living in Norway?
"So we set out with this Viking ship project, coming over here with lots of young people to say thank you and as a way also to explore the history and the heritage we share together.
"It is [faith] declining in churches everywhere really, but at the same time we see a young generation that is interested in truth and really seeking to believe in and something to put their hopes in.
"This is why we believe that looking at what gave Europe hope 1,000 years ago, just might be what can give Europe hope today."