Greek death victim Joe Arthur was 'unlawfully' killed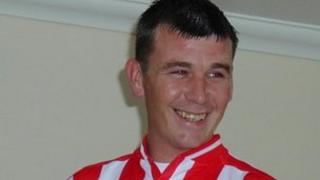 A Sunderland man who died in Greece while on holiday six years ago was unlawfully killed, a coroner has ruled.
Joe Arthur, 34, was allegedly attacked in Corfu in 2006 and later died after neglect by medical staff.
Last month a Greek doctor was convicted of manslaughter and on Friday Sunderland Coroner Derek Winter ruled the 34-year-old was unlawfully killed.
Mr Arthur's sisters Tracy Page and Joanne Arthur said they now had closure on the case.
Mr Arthur of Grindon, was allegedly hit with a pool cue in an unprovoked attack and was treated at Corfu General Clinic for four days.
He was discharged from the clinic, but later became seriously ill and died.
Doctors issued a death certificate stating he died from natural causes, but an opening UK inquest established he died of a brain haemorrhage because of the attack.
A barman was later charged with the assault, but the case has never been to court.
In June 2012, after being adjourned three times, a doctor was found guilty of manslaughter through neglect at Thresprotia Court.
Speaking after the inquest, Ms Page said: "The fight was always worth it for Joe.
"We didn't want anyone's blood or for anyone to be hung, drawn and quartered. We just wanted to know why Joe wasn't treated the way he should have been. That's all we wanted."
Ms Arthur added: "It should never have happened, we shouldn't be here.
"Joe should be here but unfortunately because he didn't receive the care he should have received, he is not here today."